If you have no idea how to take care of your hair, follow the advice of experienced bloggers, hairdressers and hair-maniacs. They entirely agree that the best way to improve condition of strands is oil hair treatment. It's a common method of scalp care originating from India. Just by looking at Hindu women hair, we know that their hair care methods must be one of the best.
Therefore, there's no other guideline to stick to than starting applying oil hair treatment.
How Often Should Oil Hair Treatment Be Applied To Make It Work?
Unfortunately, there isn't one and easy answer to this question. The frequency of applications depends on the condition hair is in. If you used lighteners, dyes or if you often use a blow-dryer, you should do oil hair treatment at least twice a week; before each hair shampooing. On the other hand, if your hair isn't damaged as such, it's enough to treat it with an oil every other week. Remember though, don't forget to perform any session.
When You Don't Know Which Hair Oil To Choose.
First of all, don't worry! You're not the only one who experience this kind of problem. Many women don't know how to do it either. And indeed, choosing the right hair oil is a very important issue. Thanks to application of appropriate oils, condition of your scalp and hair will definitely improve. Basically, on cosmetic blogs you can find plenty of hints  that will help you with buying a hair oil. What's extremely crucial, remember to match an oil with your hair porosity: low, medium or high. Here, mind the content of Essential Fatty Acids (EFA). If you're going to apply oil hair treatment for the first time, it's suggested giving a go to oils that you currently have got at home, or each for the blends available at stores.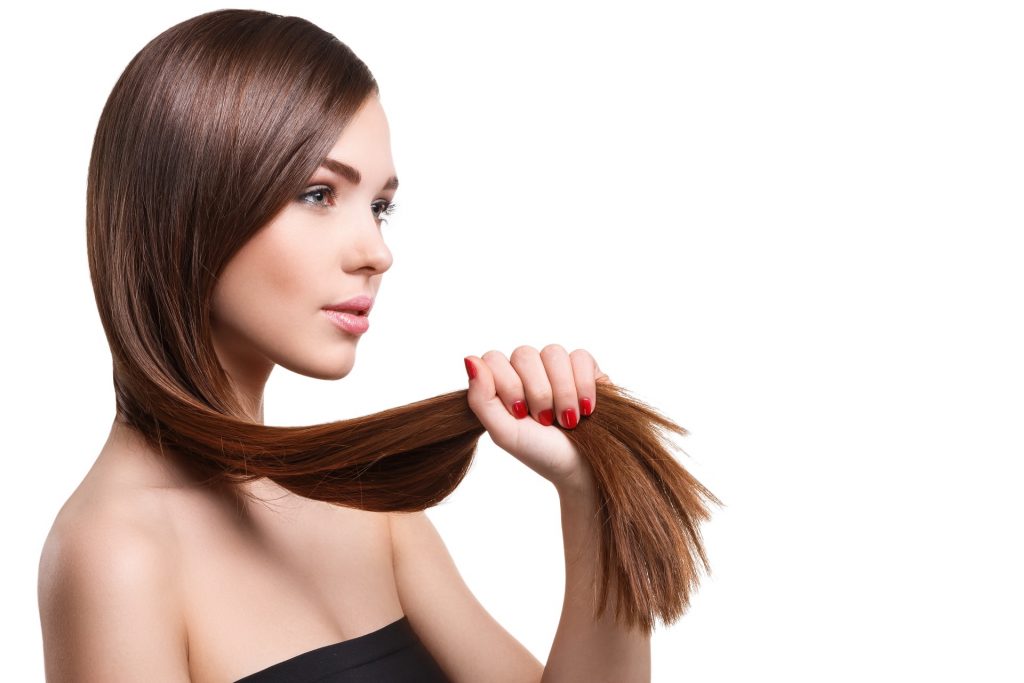 REMEMBER: Oil hair treatment doesn't deliver any effects if you use oil hair products containing silicones. Such cosmetics indeed work, but only superficially.
Three Drops Or Two Teaspoons? How Much Oil Should Be Applied To Hair?
It depends. The amount of oil has to go hand in hand with length, density, level of damage and porosity of hair. Of a great importance is also the consistency of a product as well as whether it's easy to remove it or not. Actually, oil hair treatment varies from regular hair care by the dosage of the oil used. The treatment's aim is to deliver immediate results, and the greater amount of the oil makes it possible and even certain. What's interesting, bear in mind that the larger amount of oil applied to hair influences the time devoted to washing it off. Shampoos, in turn, contain SLS which dehydrates hair and can contribute to scalp irritation. Effect? Oil hair treatment has delivered no positive outcomes at all.
You've Already Bought The Best Cosmetic. What's Oil Hair Treatment?
There're numerous ways to perform oil hair treatment. Probably, you're going to find the most suitable one thanks to trial and error method. Oil hair treatment can be applied either before or after hair shampooing. Mix one portion of oil with three portions of a conditioner and let it sit on damp hair for approximately half an hour. Then, proceed with hair washing. And what are the ways of applying oil hair treatment? Here are the most popular:
rubbing a few drops of an oil into hair ends right after shampooing
massaging an oil into damp strands
mixing a few drops of an oil with a shampoo, and washing hair with it
adding an oil to a hair mask or a hair conditioner
Does It Work Or Not? Effects Of Oil Hair Treatment.
What's the determiner indicating that the hair oil we used fulfilled the task? It's easy! Hair simply looks better than before the treatment. However, if you can't notice any improvement, change the oil into a better one, that contains different substances, yet including EFA. Most likely, you didn't match oil with your hair needs if you couldn't see any improvement. Let be reminded: treat high porosity hair with poly-saturated oils, low porosity hair with saturated acids, and medium porosity hair with mono-saturated oils.
Can You Apply A Hair Oil To Scalp? How To Do It?
Obvioulsy, you can. Obviously, not all hair oils are good to pamper scalp. However, some of them can be applied freely. What's important, you have to take some precautions while putting an oil onto your head. If you follow the instructions listed below, surely, you will notice only positive outcomes. Let's start!
Do the allergy test first. Rub one drop of an oil into skin behind your ear and keep observing the very spot for 24 hours to detect any irritation that may occur. If your skin isn't reddened, sensitive, itchy and if the epidermis isn't exfoliating, you can use the very oil freely. This kind of test is especially recommended when you want to use Hindu oils.
Wash your head precisely. Sebum, impurities, dandruff and dead epidermis cells may remain residual among hair. To facilitate the speed of abortion, spray the scalp with moistening hair mist.
Comb hair. Do it gently so as to avoid tangles.
Divide hair into sections and apply a few drops of oil directly on scalp. To do it precisely, use one of the following items: a pipette, a hair dye brush or your fingers.
Give your scalp a message. Thanks to this, you'll distribute the oil evenly, improve blood circulation and relax. However, be careful so as not to tangle the strands.
If you want to, you can put on a foil cap, a towel or a warm hat. Thanks to this, you will improve action of the oil.
Leave the oil on hair for a few hours. After that, wash your head with a conditioner and then with a delicate shampoo.