WHO IS NANOIL ARGAN OIL DESIGNED FOR?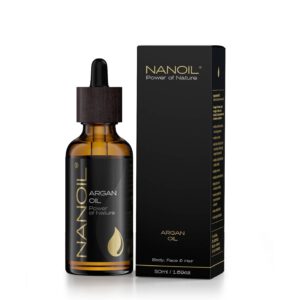 It's no exaggeration to say that argan oil is one of the most universal cosmetics that mother nature gave us. Of course, this natural substance can be applied to hair, but not only to it – the oil also serves its purpose when applied to the entire body, including face and fingernails. Cold-pressed, unrefined and organic Argan Oil by Nanoil shall be held dear by those whose hair is damaged, splitting, frizzy and dry. Also, this oil saves mature, dehydrated and irritated skin. Find out how the best argan oil, which you can own, works!
HOW DOES NANOIL ARGAN OIL WORK?
Multi-tasking Argan Oil by Nanoil works in two ways: from the outside (embraces skin and hair with an invisible protective coat) and from the inside (nourishes, regenerates and strengthens). It's a lightweight emollient that ensures continuous and adequate level of hydration. Some of its properties, like the fact that it's natural UV filter and provides heat protection, make it an effective hair styling product. What's the most important though, Nanoil Argan Oil regenerates and fosters rebuilding process of damaged hair, skin and fingernails. If you use the oil to irritated skin, you can be sure that it'll bring relief to the very area. It improves hair softness, smoothness and bounciness; it also enhances hair shine. To sum up, Nanoil Argan Oil simply heals up and beautifies.
WHAT'S HIDDEN INSIDE NANOIL ARGAN OIL?
The entire composition of this product is made of argan kernel oil. Does one-ingredient INCI mean that the cosmetic is indigent? Nothing could be further from the truth! This organic, natural argan oil hides over 100% nourishing substances which positively influence hair and skin state. The very substances include: vitamin E as well as omega-3, omega-6 and omega-9 fatty acids. Also, Nanoil Argan Oil is a rich source of substances displaying antioxidant and anti-ageing properties.
HOW TO APPLY NANOIL ARGAN OIL?
The number of ways in which Nanoil Argan Oil can be applied in is equal to the number of ideas that our imagination produces. Still, in most cases it's used solo in hair oil treatment or as an alternative to conditioners, masks, creams and balms. Naturally, the oil can be spread on wet and dry hair as well as added to favorite cosmetics and homemade beauty products. No matter if rubbed, patted, massaged, applied, sprayed – Argan Oil by Nanoil always works wonders.
WHERE TO BUY AND HOW MUCH DOES NANOIL ARGAN OIL COST?
Nanoil Argan Oil is an investment that pays off. For a very attractive price we receive 50 ml (1.69 oz) cold-pressed, unrefined and certified oil. This exceptionally efficient and truly effective oil can be ordered via the Internet, on the official website. Then, you can be certain that the oil you buy is the genuine Moroccan oil.
ADVANTAGES:
100% natural, cold-pressed, unrefined
can be applied to hair as well as to the entire body
works effectively regardless of its use
perfect for damaged, dry and weak hair
ideal as a thermal protector and hair styling product
is a natural sunscreen
maintains the adequate level of hydration (not only in hair)
works comprehensively: heals up and beautifies
is lightweight, non-overburdening, doesn't leave greasy feel
highly efficient beauty oil
DISADVANTAGES:
glass pipette might get loose
available online only
OUR RATING

more information on: nanoil.co.uk/argan-oil